Water Cutting Balloon 90 mm
GCA Ø 90 mm
Water Cutter Balloon for pipes and downpipes of Ø 90 mm diameter.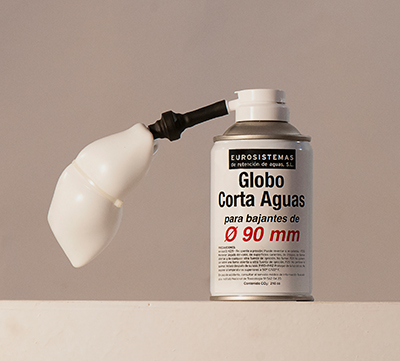 Self-inflating/deflating device, to collapse downspouts/collectors Ø 90 mm. Allows repairs to downspouts / sewers without dripping or accidental discharge of wastewater during repair and replacement work.
With a Ø 40 mm crown, a hole is drilled in the downspout at approx. 30 cm. The balloon is inserted into the hole without removing the clamp and the aerosol charge is applied, and the balloon is fully inflated inside the downpipe. At that time, the downspout or collector will be repaired or replaced. Once the repair is completed, the retractable probe is pulled and the balloon is fully deflated. Upon removal of the Water Cut-off Balloon, water accumulated in the downspout due to dripping or accidental discharge will be evacuated to the already repaired downspout.
To insert the Water Cutting Balloon in a pipe, the hole must be made with a Ø40 mm crown.
Once the repair has been completed, the hole is plugged with a TPR-Ø40 Logging Point Plug.